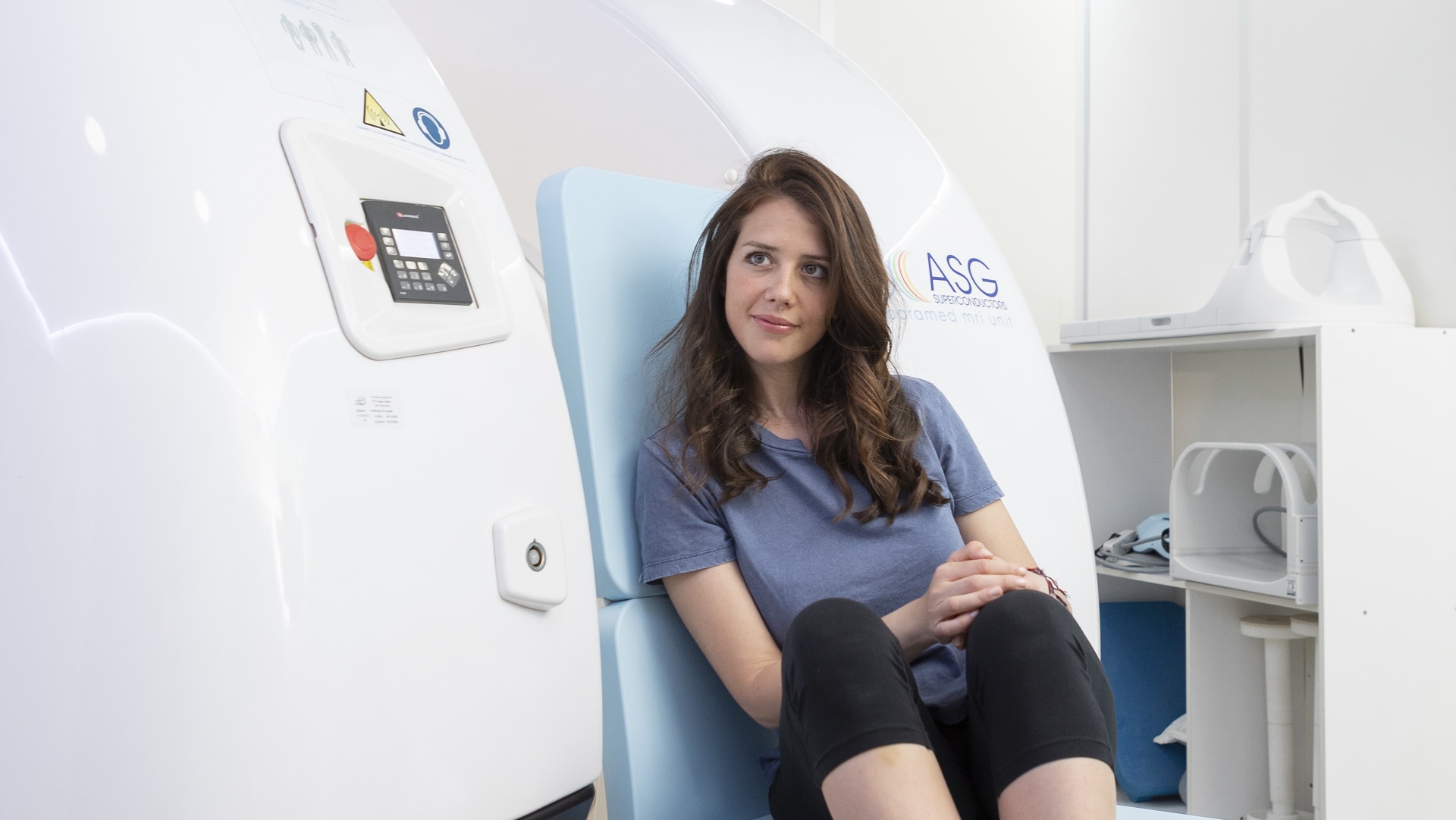 One of our key values has always been, since the very beginning, to put patients first. MROpen Evo provides superior comfort, greatly reducing the problem of claustrophobia and patient anxiety that often occurs in closed "tunnel" systems, causing concern and distress in both patients and MRI operators.
MROpen EVO provides exceptional patient comfort, unmatched in the industry, delivering low-impact MRI examination in a relaxing and reassuring environment. Patients can enjoy watching TV while comfortably seated in the scanner undergoing an MRI procedure.
All this simply can't happen in conventional closed MRIs or even in "traditionally open" (C-shaped) systems.
STRESS-FREE MRI ENVIRONMENT
Anyone who has undergone an MRI examination at least once knows that the procedure can be very uncomfortable in traditional "closed" systems.
Despite all of the "patient preparation" tools aimed at reducing the patient's anxiety, an MRI procedure can cause discomfort or, worse, trigger adverse claustrophobic reactions.
Even so called "open" or "wide open" scanners can cause panic and distress.
An estimated 15% of patients are unable to finish MRI procedures because of negative reactions due to severe anxiety.
MROpen EVO has been designed with the claustrophobic patient in mind, providing exceptional comfort and eliminating the problem of anxiety and claustrophobia.
Patients travel long distances, even going abroad or overseas, to find the closest MROpen clinical site.
This increasing trend shows how the MROpen EVO really makes the difference for claustrophobic patients, enabling them to undergo the MRI procedure needed to  identify their medical condition and, increase the quality of their lives.

Patient -  Innovative MRI - Pensacola (USA)
"As a claustrophobic patient who even needed Valium to use an "Open MRI Centre" I can only applaud the Upright MRI scan I have ever had!"

Patient – Innovative MRI – Orlando (USA)
".. I have been in many scanners in my life and it is not always a pleasant experience… not to be confined into a tight space will have a huge benefit"  

Patient – Leeds Upright MRI Centre (UK)
"I had a bad experience elsewhere but this was stress free, easy and no problem." 

Patient – Birmingham Upright MRI Centre (UK)
"I am claustrophobic, and this is the first time I've been in a upright scanner. It was brilliant compared to ordinary MRIs"

Patient
After many tests, including traditional MRIs, this patient's lengthy struggle with pain is ended after a discovery at an Innovative MRI Partners facility.

Discover more about this story

Patient
A child who has had many terrible experiences with MRIs, finds relief with the MRI system at an Innovative MRI Partners facility.

Discover more about this story

Patient
Claustrophobia can make you fear necessary MRI scans. After experiencing the MROpen from Innovative MRI Partners, that will change.

Discover more about this story