MRI THAT MAKES THE DIFFERENCE
MROpen EVO completely changes the paradigm of MRI examinations, opening up new possibilities: from Upright MRI of the Spine and Joints, to Dynamic and Functional studies, to Multi Position Imaging, and finally accommodating those patients who are anxious about an MRI procedure. MROpen EVO offers the ideal solution for your dedicated Imaging Centre or as an additional scanner to extend your MRI capability.
FIND YOUR NICHE, STAND OUT
HIGHEST PATIENT ACCEPTANCE
Increase patient throughput with MROpen EVO, the Open Sky MRI. MROpen EVO is a "totally Open" MRI system that provides unparalleled patient comfort, thanks to its innovative and revolutionary Upright magnet design. The vertical opening accommodates larger, claustrophobic, elderly or young patients, or those who are in pain, by providing an Open Sky scanner with no barrier between the patient and the environment.
The Neuro Imaging offers routine imaging sequences in addition to Diffusion Weighted Imaging (DWI) and 3D MR Angiography, providing a complete answer to the clinical investigation of the brain. The MROpen EVO also includes in-console post processing for MRA examination, allowing the technologist to produce Maximum Intensity Projection (MIP) cutouts of the vessels and reconstruct them in the traditional tumble and turn directions for evaluation.
Head & Neck RF Coil
The optimized Head&Neck multi-channels receiving coil allows for coverage of the entire head and neck in one Field of View as well as specific signal coverage for both MR Angiography of the brain, routine brain examinations, and MR Angiography of the neck in separate Fields of View as desired.
Whole Spine RF Coil
The 8 channels RF coil ensures a perfect signal coverage for whole spine examinations. The operator can perform the entire spine examinations without changing the coil from one anatomical area to the next, reducing the positioning time between between the Cervical, Thoracic and Lumbar spine areas allowing the Whole Spine RF coil to increase the workflow for spine examinations up to 30%.
With MROpen Evo you can achieve all the standard MRI procedures for MSK and Neuro imaging. Thanks to a complete set of anatomy-dedicated receiving coils and customized examination protocols setup, your normal daily routine is completely covered, with optimized workflow, high level image quality and unique patient comfort.
To cover specific needs, differentiate your offer and increase the total number of patients MROpen Evo is a perfect choice for your centre as a stand alone scanner or associated with a traditional MRI.
We take pride in supporting your team through continual and proactive maintenance. Our experts are here to make sure that your equipment is functioning optimally. We are committed to maintaining your MR scanner and acting quickly to get your system up and running should you experience a problem. Through the remote Diagnosis & Repair approach, we minimize the impact of a failure on your daily routine by reacting quickly when an unexpected event occurs, increasing the equipment stability and reliability. Realtime interaction between clinical staff and clinical application experts, whenever a support need arises, provides immediate and secure access to clinical application expertise and ensures the usage of the clinical application's full potential.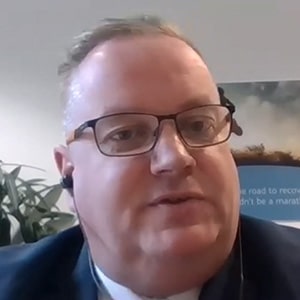 Martyn Beckett, Director of Operations, InHealth (UK)
We provide a service to patients who are unable to undergo conventional MRI due to suffering from claustrophobia or patient habitus. We're proud to achieve a 98% scan completion success rate and regularly receive positive patient feedback.